Grey Ready Mixed Glitter Crystal Fix & Grout 2.5L / 4.5KG (10lb)
This variant is currently sold out
Take all the effort out of decorating with our ready mixed Glitter Crystal Fix & Grout! 
Ready mixed, and ready to go – our Glitter Crystal Fix & Grout is here to help! 
• Mould Resistant 
• Non-Toxic 
• Child safe 
About the Product
Specially designed using only the finest quality, grade A ingredients, Hemway's Ready Mixed Glitter Crystal Fix & Grout no only looks great – it works great too. Open up endless design and décor possibilities. Wherever there's a tiled surface, our convenient, ready mixed Glitter Crystal Fix & Grout is ready to transform your look. Whether it's the kitchen or bathroom, floors or splash backs, this high quality product will suit any interior style and really bring your look to life. Currently available in four stunningly versatile colours, stay classic using silver glitter in a dark grey grout; or go bold with our gold and silver glitter in a pale grey grout. As with all of Hemway's products, our Ready Mixed Glitter Crystal Fix & Grout is incredibly easy to use. Furthermore, it's completely non-toxic, so you can have peace of mind knowing your pets and kids are safe! Each tub contains enough product to cover up to 15m², so you won't have to break the bank to achieve your ideal look either. Also suitable for sticking back any fallen tiles, Hemway's Ready Mixed Glitter Crystal Fix & Grout is fully mould resistant, completely waterproof, and contains a fungicide for added protection – so you know your grout won't spoil.
How to Use
Do not take the risk of buying substandard ready mixed glitter grout as this could ruin your grout project. Sold in 2.5L / 4.5KG (10Lbs) tubs, covering 15 metres squared Hemway ready mixed glitter crystal fix & grout comes with specially formulated glitter evenly mixed throughout. Our product can be used to fix your tiles to the walls, and grouting. This is an amazing 2 in 1 product - all you need for your tiling project. Fast & easy to use - you do not need a professional to use our product, we have made our product with the everyday consumer in mind. Recommended for power showers, wetrooms, flooring, kitchens, floors, walls, mosaics, splashbacks, worktops, bathrooms. Actively repels water & humidity, with superior mould resistant fungicide intergrated within the mixture to protect the grout. Not suitable for metallic detailed tiles or unglazed tiles where the grout could leave a stain
Includes
Includes 1 x Bucket of Hemway Grey Ready Mixed Glitter Grout (with chosen glitter colour).
Additional Info | FAQs
FAQs
Q: Do I have to apply in small batches?
A: Hemway Ready Mixed Glitter fix & grout can quickly become hard once exposed to the natural environment, especially at high temperatures. We recommend that you apply in small batches and work slowly throughout your tiling project. Spread the grout onto a 3.5ft x 3.5ft area and shape the joints. Remember to clean each surface tile section before moving onto the next
Q: Do I have to pay attention to the joints in-between the tiles?
A: Ensure all the joints are completely filled with the ready mixed glitter fix & grout. Push the mixture deep into all the inbetweens of your tiles. Remove any excess from your tiles by holding your float at 90(degrees) to the tiles and scraping across.
Q: Is Hemway Ready Mixed Glitter Crystal Fix & Grout safe to use around children?
A: Once dry and set yes it is. The glitter is used in many non-stick coatings for pots and pans eg.Teflon. In addition, they are used for coating some medical equipment because bacteria's find it hard to attach. We have certification to go with our product, stating it is child safe once dried and set.
Q: Should I scrub the tiles?
A: We do not recommend scrubbing the tiles, as this will not remove the glitter from the applied mixture. Wipe the tiles with a clean, water damp, sponge. Apply slight pressure and swipe in one direction.As with all chemical products, care should be taken during use and storage to avoid contact with foodstuffs, skin, eyes and mouth. If accidentally ingested immediately seek medical attention; do not induce vomiting and give copious amounts of water to drink. KEEP OUT OF REACH OF CHILDREN AND ANIMALS. Please note: This item is a made to order item, which is non-returnable, non-refundable.
Customer Reviews
Write a Review
Ask a Question
Filter Reviews:
grout
kitchen
disco ball
glitter grout kitchen
luv luv
outcome
love
everywhere
glitter
12/07/2020
Elaine N.
United Kingdom
Love this!
Followed the instructions on the tub and the results are fantastic. Really added some sparkle to the room
10/25/2020
Misty W.
United Kingdom
Brilliant and Easy
First time I've ever regrouted a bathroom floor and this ready mixed grout was super easy to use. After seeing tutorials and hearing that glitter grout in general the results have been disappointing I gave it a go anyways and I was not disappointed with Hemway! The mix was smooth and the glitter really shows up and sparkles!! Please note if you're reading my review that the glitter is not chunky in the ready mix which was still fine in my case. Only thing I found that I still have most of the tub left as my job was a small space. Wasn't sure how much I'd truly need and smaller tubs are not available but I may use what remains for another job.
10/01/2020
Nichola M.
United Kingdom
Perfect! So glittery
I wasn't sure if this product was just grey grout with speckles of glitter, well it's not, it is full of beautiful sparkly glitter that looks amazing when applied, this whole tub done a large tiled lounge and hallway and barely even used any of it, practically a full tub left, very happy thankyou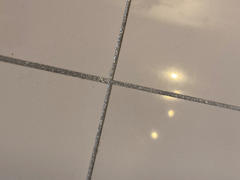 08/23/2020
Craig B.
United Kingdom
Craig
Really quick service
08/19/2020
Lisa B.
United States
Beuatiful Glitter Grout
Very happy with the look of this grout
07/23/2020
Andy C.
United Kingdom
Amazing product
Amazing product totally transformed my bathroom floor mosaic tiles