Glitter Grout Additive
This variant is currently sold out
Transform your bathroom and kitchen today with our Glitter Grout Additives! 
Glitter Grout Additive is an ingenious new way of adding a touch of class to your bathroom or kitchen. Simply drop your colour of choice from our Glitter Grout Additive range into any standard grout, and instantly transform your living space.
Choose from our sensational range of unique colours: Black, Gold, Silver and our special edition Silver Holographic. As a result, you're guaranteed to get the look that's right for you. Whether your style is rustic or Great Gatsby, vintage or sleek, we have the look you're after.
As a bestseller and definitive market leader, Glitter Grout Additive is quick, easy to use, and allows you to add definition to your style, without having to be a DIY expert.
About the Product
• Temperature Resistant | For use with underfloor heating
• Non-Toxic
• Child safe
• Colourfast & Fade Resistant
• Non-bleed & non-rust glitter
How to Use
• Our glitter is simple to use, mix glitter into grout with the maximum ratio of 3.5oz (100g) glitter to 2.5LBS (1KG) dry grout. • We recommend you do a trial test first by adding the Glitter Grout Additive, into a small amount of Epoxy/Cement grout, before carrying out your full project. we sell 0.35oz (10g) sample bags for you to test with.
Includes
Includes 1 x 3.5oz (100g) packet of Hemway Glitter Grout Additive (with chosen glitter colour).
Additional Info | FAQs
Shop securely with Hemway's Peace of Mind Promise: • Dedicated customer service and product support • Fast shipping worldwide • Money-back guarantee* Not 100% satisfied? No problem! Simply return it to us within 14 days for a quick, no quibble refund. Got a question about our Glitter Paint Additive? Contact our friendly Customer Support Team for more information, or check out some of our other fantastic products.
Customer Reviews
Filter Reviews:
glitter
SHIPPING
package
grout
sparkle
nothing
look
effect
kitchen
side
01/13/2020
Melanie W.
Canada
Great product!
We really enjoyed using this product. We chose the white sparkle used in white grout and mixed it according to the package. We used it in a small area (basement kitchenette) as a trial for use when we do our main kitchen. We will be using it, but I might pick a different colour or add a bit more. It's not as noticeably sparkly as I was hoping it would be, but it's pretty. It's like new fallen snow. I also wanted to make sure to point out how amazing their customer service is. I had some issues with shipping (a ME issue, not a them/purolator issue - long story) and they were amazing and gracious. I wish other companies could have customer service as good as Hemway's is!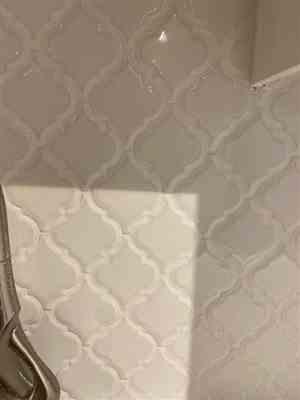 01/01/2020
Jaspreet D.
United Kingdom
Hemway Glitter Grout Additive Silver
Great Service, arrived super quick and looked lovely with my white tiles. Very happy with the product!
11/25/2019
Jay
United States
Meh
Based on reviews and photos from users that ended up with speckled or 'dirty' looking joints because the glitter got lost in the high-contrast grout, I opted to go with white glitter and white grout and followed the directions on the package. I knew the effect would be subtle so no surprises there but, as others have pointed out, you have to really stare at the kitchen backsplash to notice the tiniest of sparkle. When you catch it, it looks awesome but the chances of catching that twinkle are slim. I have decent natural and under cabinet lighting in the kitchen but still doesn't seem to be enough to pick up the glitter. Do I regret the extra step? No. Was the outcome enough for me to recommend? Also, no. On the bright side, shipping to the US was very quick.
10/14/2019
Gwendolyn F.
United States
Not what I expected
Didn't like it. Not what I expected... I ordered the silver and gold mixed glitter... It just looked like white crystals.
09/12/2019
Rosemary S.
United Kingdom
Love it!
I just love it. It bring a bit of sparkle to my bathrooms without paying a fortune. Brilliant.